How to register and bet on Flooks Bet Kenya Guide
Flooks is a relatively new betting site in Kenya. Although Flooks Kenya does offer plenty of sports, they focus on Football. Flooks have 4 bonuses/promotions that are worth looking at.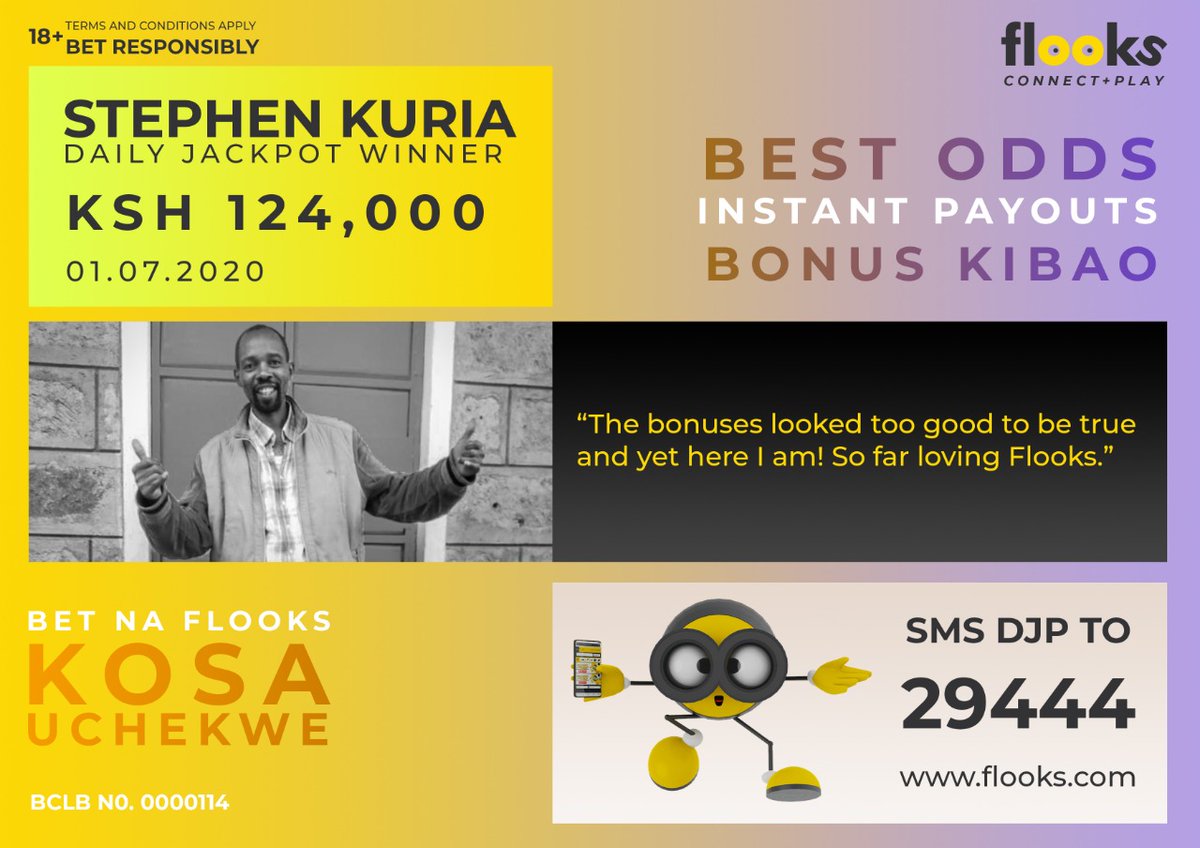 About Flooks Bet Kenya
Flooks Kenya is a new betting site in Kenya with great betting markets and complies with the state's new law of taxation. In this post, you will learn how to register for this website, how to log in and everything you need to know.
How to Register on Flooks Bet?
Visit
www.flooks.com
and click on register. SMS the word JOIN or FLOOKS or PLAY to 29444
What do I do if I forget my password?
You can reset your password by clicking on the 'Log in' button from the home page and then on 'I forgot my Password'. Submit your phone number and you will receive an SMS with a code to reset your password.
Can I change my password?
YES, you can change your password at any time under Change password. Fill in the details and save changes. The password should be hard to guess and you need to change it periodically. Please also make sure to keep your login details secret. Visit www.flooks.com/profile/edit-profile
Can I change my user ID?
Changing your user ID is not possible as your user ID is your registered phone number. Once you have successfully registered, you need to continue with that account.
How to Login on Flooks Bet?
To sign in to your Flooks Bet account, simply click here.
At the top of the web page, click on "login" and key in the required details.
How to place a Bet on Flooks
How do I place a bet via web?
To place a bet, you first need to log in to www.flooks.com and then perform the following steps:
Browse the sports betting section (access sport and leagues via navigation bar and available filters)
Tap the odds value of the market you wish to add to your betslip
Access the betslip from the header by tapping on in the top right-hand corner or via the yellow confirmation message displayed under the selected odds
Select your bet type: Single, Multi or System
Enter the stake you wish to wager on your selected bets
Tap the "Place bet" button (if your selections are correct) to submit your betslip
The confirmation page will be displayed upon successful processing
Where do I find live games for live betting?
Browse the live sports betting section (access the "Live" filter via the navigation bar or via the sports homepage)
How can I view my bets?
To view your betting history, please log in to www.flooks.com/profile/my-bets
How can I get bet notifications?
You may receive information about your placed bet via SMS after placing a bet (text message) or Subscribe by sending (sms) the word FORM to 29444at a rate of KES 2 from your Flooks wallet
Can I combine pre-match and live games?
You can combine pre-match (events that have not yet started) and live game (events that are in-play) bets in a single bet slip.
I placed a bet by accident. What should I do?
SMS the Cancel#Bet ID to 29444within 5 MINUTES after placing your bet.
How can I see if my bet was accepted?
After successfully placing a bet via web, you will be redirected to a confirmation page which displays the status and detailed information on your bet. In addition, you can access the "My bets" page in top left hand corner of the Flooks header to view all of your submitted bets (open and settled). Your open bets can be found in the "Open" tab. After successfully placing a bet via SMS, you will receive a confirmation SMS.
What is the minimum/maximum stake on a bet?
Minimum Bet is KES 10 Maximum Bet KES 20,000
Why would my Bets not be accepted on my betslip?
The "Place bet" button may switch its message under certain conditions. For example, when odds value(s) for a selected bet change (e.g. odds value increase), the "Place bet" will switch to "Accept new odds". Once you press this button, the bet slip will accept all odd changes with one tap. The new odd values will be accepted and your "Possible winnings" will be recalculated based on the new odds values. Finally, after tapping on the "Accept new odds" button, the system will return to the "Place bet" button in order to continue with the submission of the bet. Alternatively ensure you have sufficient balance in your account or if you are placing a bonus bet ensure you satisfy all bonus bet conditions on odds.
How to Deposit on Flooks Bet
How do I deposit to my account?
Via MPESA Paybill No. 299444, Account No. FLOOKS. OR, via SMS by sending D#Amount to 29444. Example D#250 to 29444 OR, via the deposit option of you online profile. Visit www.flooks.com/profile/top-up Make sure your device is at hand and the screen is unlocked
I made a deposit but the amount was not credited to my Flooks account.
Please check if you got a MPESA confirmation that you paid to FLOOKS. Or call our Customer service lines 0704/0705 999444 for assistance.
How do I check my account balance?
To check your balance, SMS the word BALANCE to 29444. To check your bonus balance, SMS the word BONUS to 29444.
Flooks Bet Contact
ADDRESS
: P.O. Box 2888, 00606, Nairobi Kenya.
E-MAIL : ccare@flooks.com
PHONE : 0704 999 444
✔️ Expires in 14 hrs
✔️ 292 Voucher used
✔️ 1xBet - 💎 Best Bookmaker
✔️ Sports, eSports, Casino
---
Tags:
---
Other Betting Sites reviews & guides