How much do the most popular football legends earn?
Discover how much the world's most popular football legends earn and how they spend their income. Wealth, publicity and passion behind the scenes.
---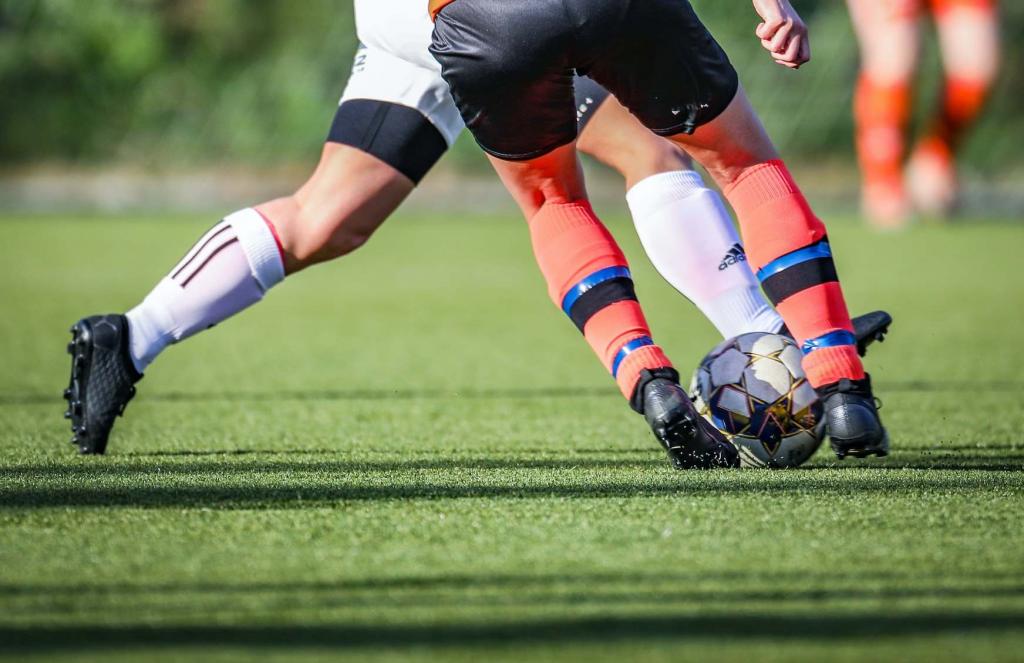 Source: unsplash.com
Football is not just a sport, but a huge business, where the biggest legends amass huge fortunes not only on the green lawn. In this article, we tell you about legendary players who stand out from the rest not only in football, but also financially. How much do they earn and what are their sources of income? These questions have circled the world of football fans, and now we dive into the world of numbers to unravel the mysteries beyond the football field.
We will tell you how the most famous players were able to open the door to the realm of wealth and how wealth flows into their accounts.
Wealth and fame, talent and investment - all brought together in one article to show that football is more than just a sport.
Kylian Mbappé: The French soccer star
Kylian Mbappé is currently one of the brightest stars in the football sky, and his numbers reflect that. Mbappé plays for
Paris Saint-Germain
and the French national team, and his annual income is an impressive $128 million. Of that whopping sum, $110 million comes from his salary and signing bonuses. However, his ability to make money does not end there: Mbappé pockets an additional $18 million annually from a number of famous brands such as Nike, Dior, Hublot and many others.
Mbappé spends his wealth not only on luxury cars and luxury houses. He is passionate about traveling and regularly visits various countries including Japan, the United States, Morocco and others. It is not left behind in the field of cars either, as it boasts a fleet of vehicles bearing the names of Ferrari, Lamborghini, Mercedes-Benz and Audi.
However, Kylian Mbappé is not only focused on his own well-being. His charity activities are also significant and he actively helps children and young people in need. He is an ambassador for UNICEF and the founder of his own Mbappé Foundation, which is another example of how he uses his fame and income for aid and social responsibility.
The table below summarizes Kylian Mbappé's income and lifestyle:
| Sources of income | Annual Revenue ($ million) |
| --- | --- |
| Pay and signing bonuses | 110 |
| Advertising contracts | 18 |
Cristiano Ronaldo: The returning legend
Source: sportingnews.com
Cristiano Ronaldo
, who currently plays for Manchester United and the Portuguese national team, is also among the highest paid footballers. He takes home $100 million a year, and that amount comes from two main sources. $40 million comes from his salary and signing bonuses, while the remaining $60 million comes from endorsement deals with brands like Nike, Herbalife, Clear and others.
He is also the owner of the Pestana CR7 hotel chain, the Pestana CR7 football academies chain and the Pestana CR7 football clubs. In addition, he loves sports and exercise and regularly plays soccer, yoga, swimming, and other types of
physical activity
.
In addition to these hobbies, Ronaldo also likes to gamble, namely poker. Fans have seen him multiple times in the casino playing this exciting game. Thanks to this passion, he became a co-owner of the popular PokerStars casino, and he also earns a good profit from this business.
Of course, such prizes are a good money-making opportunity for anyone, so you can also try your luck. However, you need to choose the right organization for this. And today you can also gamble online, and one of the quality platforms is Kaszino Zone. It contains the best licensed
online casinos
, so you can play there completely safely.
Lionel Messi: The recognized master of football
Source: unsplash.com
Lionel Messi, who also plays for Paris Saint-Germain and the Argentine national team, also has a huge income. He makes $110 million a year, half of which comes from his salary and signing bonuses. The remaining $55 million comes from advertising contracts with brands like Adidas, Pepsi, Gatorade and others.
Messi invests his wealth in various areas, including:
Properties: He owns several houses in various locations including Barcelona, Rosario, Paris and others.
Fashionable clothes and shoes: Messi is demanding when it comes to style, especially preferring his own Adidas Messi product line.
In addition, Messi's family is of utmost importance to him, including his wife, Antonella, and his three children, Thiago, Mateo and Ciro. These details of Messi's life also show that he lives a successful and balanced life not only on the field, but also off the field.
Conclusion
In this article, we looked at the financial aspects of the careers of three football legends: Kylian Mbappé, Lionel Messi and Cristiano Ronaldo. Even though they are all world famous for their performance on the football field, their
earnings are impressive
.
We have seen football become a real business and football players become real brands.
Advertising contracts
have become an important source of income for many stars, highlighting the importance of their popularity. And it's also important to be smart financiers and investors.
Lionel Messi invests his cashflow in real estate and style, and Cristiano Ronaldo develops his own business and leads an active lifestyle. At the same time, Kylian Mbappé shows how active charity work can be a worthy example for young people.
These footballers are breaking records not only on the field, but also in the world of finance. Their success is a reminder that money plays a very important role in the world of football, and they manage it very well.
Other Pages you may like:
Casino & Sports Links on Feedinco